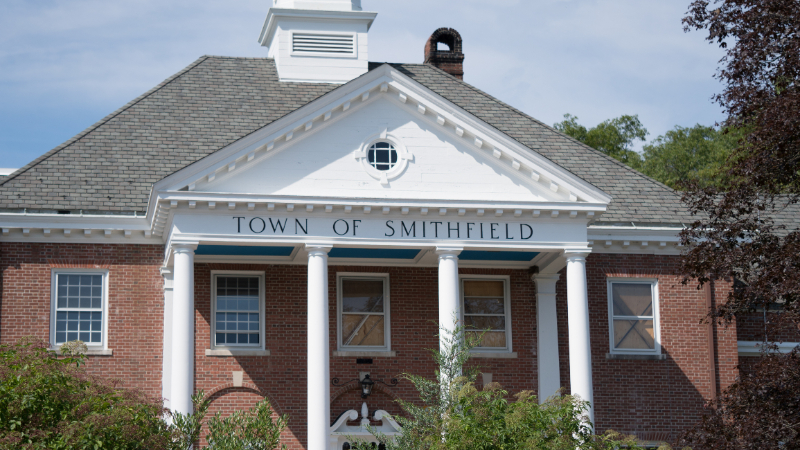 The Town is located in north-central Rhode Island. The Town was founded in 1730 and is home to approximately 21,000 people, covering 26.7 square miles. The Town is experiencing continued growth. Fidelity Investments, the nation's largest mutual fund company has located one of two New England regional centers in Smithfield. We are also the home to Navigant Credit Union, Uvex Corporation, FGX International (AAi Foster Grant), the future home of Rubius Therapeutics and many other large and small companies. A regional shopping mall, The Crossing at Smithfield, is located at the junction of Putnam Pike (Rt. 44) and Interstate 295. Additionally, Smithfield is home to Bryant University, a top business school.
Since 1994, the town has been administered under the Council/Manager form of government. Partisan elections are held every two years to elect five Town Council members who select a Council President. The Town Manager is appointed by the Smithfield Town Council to serve as the administrative head of the Town Government. The Manager appoints all Department Directors, except the Town Clerk (Clerk of the Council) and the Town Solicitor.
The Town is strategically located within a 50 minute drive of Boston and less than one hour from Rhode Island's finest beaches. Smithfield is also located 15 minutes from Providence and its fine restaurants, shopping, renovated waterfront and cultural activities.
Largely combining rural and suburban lifestyles, the Town is predominately residential, with commercial and industrial use development along Routes 7, 116 and 44. Several major roads traverse Smithfield: Interstate 295 runs roughly north-south through the town.
Smithfield Reconnaissance Report – Blackstone Valley Heritage Landscape InventoryFrom the National Park Service
These state roads cross the town in a roughly southeast-northwest direction – Putnam Pike (Route 44, Farnum Pike (Route 104) and Douglas Pike (Route 7) – linking a series of villages: Esmond, Georgiaville, Stillwater, Spragueville and Greenville, whose developments date largely from the nineteenth century. These villages make up much of the town's civic and social fabric, steeped in a New England town tradition. The Town is graced by a series of seven natural and man-made ponds, which provide recreation and natural beauty for its citizens. The town retains large undeveloped, heavily forested lands, including several active apple orchards and farms. A small state airport, North Central (SFZ), is set on the northeastern border of the Town.
Source:https://www.smithfieldri.com/about-smithfield/